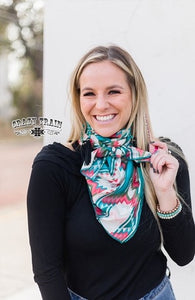 Rag Doll Wild Rag by Crazy Train
This Wild Rag from Crazy Train is awesome as a scarf with a slide or tied around your neck too.  It's 35"x35" and is 100% polyester. 


More about Wild Rags:
Cowboys were known to use old flour sacks cut into squares when fabric such as a cotton was either too expensive are hard to come by while living on the range.
Some of the many uses for a wild rag include:
"Protection from the elements
A Potholder by the campfire
Strain drinking water
Temporary saddle rigging or a rope
Arm sling, tourniquet or bandage (for man or beast)
Flagging a race
Nose blower
Draping over the eyes of a spooked or ornery horse